Serving the Homeless and Less Fortunate in Asheboro, North Carolina
More than 600,000 since 1990
For I was hungry and you gave me something to eat, I was thirsty and you gave me something to drink, I was a stranger and you invited me in.
---
~ Matthew 25:35 NIV
"Your work is going to fill a large part of your life, and the only way to be truly satisfied is to do what you believe is great work. And the only way to do great work is to love what you do. If you haven't found it yet, keep looking. Don't settle. As with all matters of the heart, you'll know when you find it."
~ Steve Jobs
Our Daily Bread Kitchen exists to provide nutritious meals to needy families and individuals with a wholesome and peaceful environment where community is represented by those served and those who serve them. We hope that we can count on you to help support Our Daily Bread Kitchen.
Our goal is to raise funds to cover operating costs and food to continue to serve our community for thirty plus years to come. In order to meet this goal, we are asking for sponsorships from local businesses and community supporters such as yourself.
We have a very active Facebook page with announcements plus photos and videos from different events. Be sure to "Like" and follow us as we will include information about different events throughout the year and different ways you can participate with Our Daily Bread!
Woodle continues to build on the legacy of
Rev. Atlas' Dream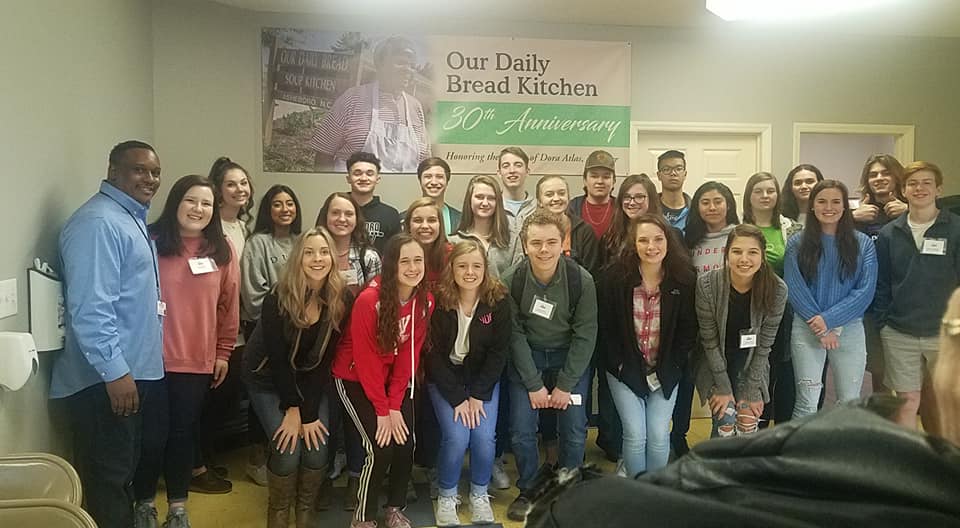 Our Daily Bread operates Monday through Friday and opens its doors promptly at 11:30 am. Residents are served hot meals and dessert in a large bright dining room. Much to the relief and delight of those served, Our Daily Bread now serves a full holiday meal Thanksgiving and Christmas Day. In recent years, various youth groups have volunteered to host a community day on the 4th of July. The festivities include hot dogs and burgers on the grill, snow cones, games for the kids and good conversation.
Our Daily Bread opened its' doors more than thirty years ago as a vision of local retired minister, Dora Atlas. Atlas initially planned to finance her mission with her social security income and personal savings but an overwhelming community response soon saw the launching of a ministry that has remained a vital part of the Asheboro community.
Since its inception, Our Daily Bread Soup Kitchen, Inc. has provided a daily meal to meet the nutritional needs of those less fortunate or who have fallen on hard times. Due to the rise in unemployment and the overall economic climate, the numbers of those being served has taken a sharp increase. In 2019, the number of residents fed daily took on a fifty percent increase. In recent years, the numbers peaked to more than 20,000 meals served annually. Nationwide, America has seen not only a rise in homelessness and unemployment but an increase of those who are hungry also. Our Daily Bread has aimed its task at providing at least one nutrition filled meal a day.
In 2009, Pastor Michael Trogdon, stepped into the leadership role after Atlas retired. "A community is only as strong as its' people and Asheboro 's residents have proven each year by the increase of volunteers whether they be young or old, professional, blue collar or retired that giving of ones time and energy is a small seed that continues to grow and enrich the lives of others."
After serving the Kitchen and the people it serves for nearly ten years, Pastor Trogdon passed the torch on to community leader, Gene Woodle in July of 2019 as he now serves as the Director. Woodle continues to build on the legacy of Rev. Atlas. "I am honored that the ODB board chose me to be the next Executive Director. I love serving my community and excited to be able to serve the community in this capacity," says Gene.
Richard Garkalns - Board Chair
Huntley Bossong
Rose Lassiter
Marcus Lowery
Edward Ramsey
Joanne Bostic
Jon Stratton
Darrell Hunter
Kiara Ortiz
© 2023 Our Daily Bread Kitchen. All Rights Reserved.